WELCOME 
We are an independent online record store specialising in rare and collectable vinyl from the 1960s up to modern day. You are guaranteed high quality products for the great prices.
12s -45s -LPs-EPs !                    
GRADING !
VG record with heavy marks scuffs crackles,plays through fine with no skips !
VG + marks plays with very slight crackles  !
VG++ M  really clean like new !
LPs Cover grading the same but will put tears wears marks in the listing !
CONTACT

- NICK BY EMAIL WITH ANY QUERIES ! 
The

B-Boy Mercenaries

: How

STN

Brought the British Break Back to Life !

INSIDE THE WORLD'S BIGGEST RECORD COLLECTION: AN INTERVIEW WITH ZERO FREITAS
The analogue record in the digital age !!
What makes any vinyl collection truly valuable? How to tell a mere hoarder from a serious collector? And why is vinyl collectable now, at a time of intensive digitalization of life and culture?
Publically pronounced dead by the mainstream industry in the 1990s, vinyl never really ceased to live and has proved much more resilient than the corporate prophets of digital 'progress' would like us to believe. Apart from its unique physical properties, vinyl records contain a history that's longer than any digital medium can ever hope to replicate. Zero Freitas insists that this history has not been fully told yet. Indeed, when acquired and classified with a set of principles in mind, records may literally offer a record of culture, for they preserve not just sounds, but also artistic expression, visual sensibility, poetry, fashion, ideas of genre differentiation and packaging design, and sometimes social commentary of a given time and place. If you go through your life with records, then your collection might be a record of your life. Big record collections are private libraries of cultural import and aesthetic appeal. They are not so very different from books, a medium we still hold in high regard. Books and records invite ritualistic experience, their digital counterparts offer routine convenience.
The problem is that many records are becoming increasingly rare. As Portuguese musicologist Rui Vieria Nery writes reflecting on the European case of Fado music, "the truth is that, strange as it may seem, collections of Fado recordings as recent as the '50s to '70s are difficult to get hold of." Zero Freitas emphasizes that the situation of collections from other parts of the world may be even worse.
We have to ask then, what we lose if we don't get hold of them? For one thing, records preserve the past. They save something intangible from oblivion, where a tune or a cover can suddenly transport us back in time to a younger version of ourselves and the feelings we once had. Rare and independently released records can provide a chance for genuine discovery and learning. They help acquire new tastes, delve into different under-represented stories.
What Thomas Carlyle once wrote about books applies to vinyl perhaps with even greater force: 'in books lies the soul of the whole past time, the articulate audible voice of the past when the body and material substance of it has altogether vanished like a dream'. This quote is inscribed in stone on the wall of the Mitchell Library in Sydney. Having listened to Zero Freitas, this motto could just as easily apply to his vinyl library project. Focusing on rare Brazilian music, he wants to save some endangered species of vinyl, and thus to raise awareness of world's vast but jeopardised musical ecologies. This task seems urgent now as our attention span gets ever shorter and more distracted, as reflected in the uprooted samples and truncated snippets of music scattered all over the internet.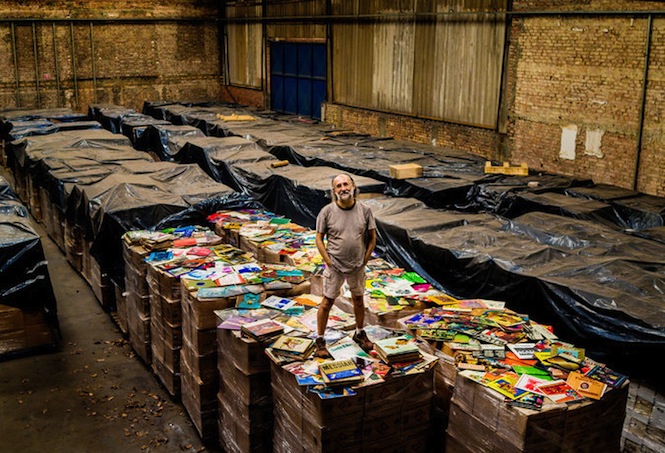 Showing 1–20 of 193 results